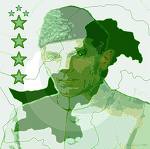 Mera Pakistan
---
Its all about Pakistan !!!
Ahadith on World
The Prophet Muhammad (Peace of Allah be upon Him) Said:
The love of the world is the root of all evil.
This world is a prison for the Faithful, but a Paradise for unbelievers.
The world is sweet in the heart, and green to the eye; and verily God has brought you, after those that went before you: then look to your actions, and abstain from the world and its wickedness.
Be in the world like a traveler, or like a passer on, and reckon yourself as of the dead.
Cursed is this world and cursed is all that is in this world, except the remembrance of God and that which aids thereto.