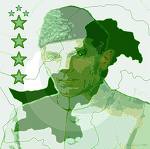 Mera Pakistan
---
Its all about Pakistan !!!
Ahadith on Truth
The Prophet Muhammad (Peace of Allah be upon Him) Said:
He is not of me who, when he speaks, speaks falsely; who, when he promises, breaks his promises; and who, when trust is reposed in him, fails in his trust.
Strive always to excel in virtue and truth.
Say what is true, although it may be bitter and displeasing to people.