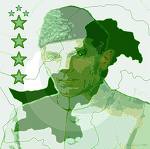 Mera Pakistan
---
Its all about Pakistan !!!
Ahadith on Seemliness
A Bedouin was standing in the mosque of the Prophet, and defiled it; when he was immediately taken hold of; and Muhammad said, "Let him alone, and throw a skin of water upon the spot; because ye were not created but of comforters and not sent to create hardships." And they let him alone till he had done, and then Muhammad called the Bedouin to him, and said, "This mosque is not a proper place for that, or any kind of filth; mosques are only for the mention of God, saying prayers, and reading the Quran."