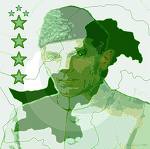 Mera Pakistan
---
Its all about Pakistan !!!
Ahadith on Quran
The Prophet Muhammad (Peace of Allah be upon Him) Said:
The Quran consisted of five heads, things lawful, things unlawful, clear and positive precepts, mysteries, and examples. Then consider that lawful which is there declared to be so, and that which is forbidden as unlawful; obey the precepts, believe in the mysteries, and take warning from the examples.
The other messengers of God had their miracles, mine is the Quran and will remain forever.