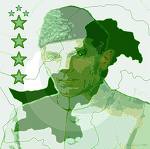 Mera Pakistan
---
Its all about Pakistan !!!
Ahadith on Progress
The Prophet Muhammad (Peace of Allah be upon Him) Said:
Everyone is divinely furthered in accordance with his character.
Every human being hath two inclinations - one prompting him to good and impelling him thereto, and the other prompting him to evil and thereto impelling him; but Divine assistance is nigh, and he who asks the help of God in contending with the evil promptings of his own heart obtains it.
The best of good acts in God's sight is that which is constantly attended to although in a small degree.