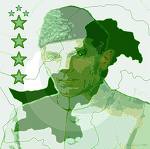 Mera Pakistan
---
Its all about Pakistan !!!
Ahadith on Learning
The Prophet Muhammad (Peace of Allah be upon Him) Said:
He dies not who gives life to learning.
To spend more time in learning is better than spending more time praying; the support of religion is abstinence. It is better to teach knowledge one hour in the night than to pray all night.
Verily God does not take away knowledge from the hands of His servants; but takes it by taking away the learned; so that when no learned men remain, the ignorant will be placed at the head of affairs. Causes will be submitted to their decision, they will pass sentence without knowledge, will err themselves, and lead others into error.