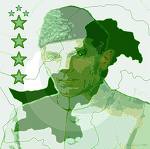 Mera Pakistan
---
Its all about Pakistan !!!
Islam
The Prophet Muhammad (Peace of Allah be upon Him) Said:
"Inform me in the nature of Islam," said Sufyan, "so that I may have no occasion to ask others about it." Muhammad (Peace of Allah be upon Him) said, "Say, O Sufyan, 'I believe in God;' after which obey the commandments, and abandon the things forbidden."
Islam commenced in a forlorn state, and will quickly return to what it was in the beginning; then be joyful, ye who are firm.
My religion is like clouds dropping much rain; some of them falling on pure, favorable soil, cause grass to grow; some of them fall in hollows from which mankind are benefited, some fall on high lands from which benefit is not derived; then the two first are like the persons acquainted with the religion of God and instructing others; and the last like the person not regarding it nor accepting the right path.