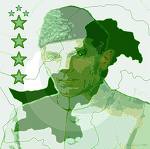 Mera Pakistan
---
Its all about Pakistan !!!
Forgiveness
The Prophet Muhammad (Peace of Allah be upon Him) Said:
Once Muhammad (Peace be upon Him) was asked, "O Apostle of God!" How many times are we to forgive our servant's faults?" He was silent. Again the questioner asked, and Muhammad gave no answer. But when the man asked a third time, he said, "Forgive your servants seventy times a day."
Do not say, that if the people do good to us, we will do good to them; and if the people oppress us, we will oppress them; but determine that if people do you good, you will do good to them; and if they oppress you, you will not oppress them.