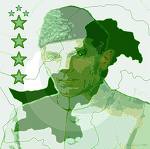 Mera Pakistan
---
Its all about Pakistan !!!
Death
The Prophet Muhammad (Peace of Allah be upon Him) Said:
Wish not for death any of you; neither the doer of good works, for peradventure he may increase them by an increase of life; nor the offender, for perhaps he may obtain the forgiveness of God by repentance. Wish not, nor supplicate for death before its time comes; for verily when you die, hope is out and the ambition for reward: and verily, the increase of a Mumins' (Muslim's) life increases his good works.
Death is a blessing to a Muslim. Remember and speak well of your dead, and refrain from speaking ill of them.
The grave is the first stage of the journey into eternity.