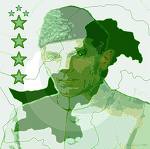 Mera Pakistan
---
Its all about Pakistan !!!
Dead
The Prophet Muhammad (Peace of Allah be upon Him) Said:
And behold! a bier passed by Muhammad, and he stood up; and it was said to him, "This is the bier of a Jew." He said, "Was it not the holder of a soul, from which we should take example and fear?"
Do not speak ill of the dead.