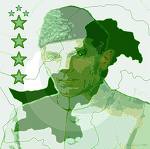 Mera Pakistan
---
Its all about Pakistan !!!
Compassion
The Prophet Muhammad (Peace of Allah be upon Him) Said:
When the child (of Zainab) was brought to Muhammad, dying; its body trembling and moving; the eyes of the Apostle of God shed many tears. And Sad said, "O Messenger of God! What is the weeping and shedding of tears?" Muhammad replied, "This is an expression of the tenderness and compassion, which the Lord has put into the hearts of His servants; the Lord does not have compassion on and commiserate with His servants, except such as are tender and full of feeling."
Muhammad said, "Do you think this woman will cast her own child into the fire?" Those present said, "No." Muhammad said, "Verily God is more compassionate on His creatures, than this woman on her own child."