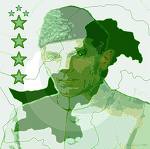 Mera Pakistan
---
Its all about Pakistan !!!
Animals
The Prophet Muhammad (Peace of Allah be upon Him) Said:
Fear God, in treating dumb animals and ride them when they are fit to be ridden and get off them when they are tired.
An adulteress passed by a dog at a well; and the dog was holding out his tongue from thirst, which was near killing him, and the woman drew off her boot, and tied it to the end of her garment, and drew water for the dog, and gave him to drink; and she was forgiven for that act.
A woman was punished for a cat which she tied till it died from hunger. She gave the cat nothing to eat, nor did she set it at liberty so that it might find some food.