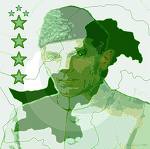 Mera Pakistan
---
Its all about Pakistan !!!
Alms Giving
The Prophet Muhammad (Peace of Allah be upon Him) Said:
The best of alms is that which the right hand gives, and the left hand knows not of.
There are seven people whom God will draw under His own shadow, on the day when there will be no other shadow; one of them a man who hath given alms and concealed it, so that his left hand knew not what his right hand did.
The people of the Rasul's house killed a goat, and the Rasul enquired, "What remained of it?" Aishah said, "Nothing but its shoulder; for we have sent the rest to the poor and neighbors." The Rasul said, "The whole goat remaineth except its shoulder; that is, that remaineth which ye have given away, and what ye have kept in the house is frail."